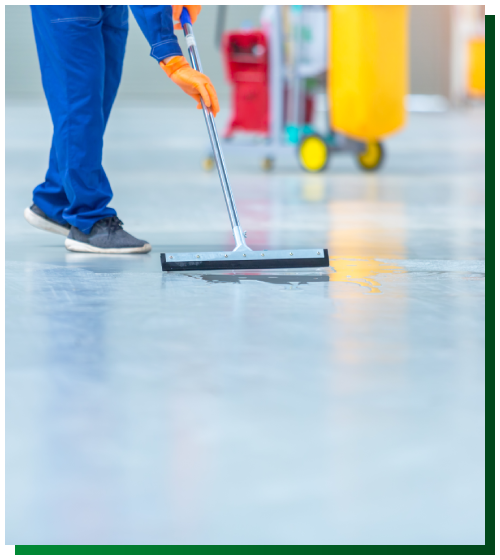 What's included in warehouse cleaning?
Warehouse Cleaning Includes:
Clearing debris from the warehouse floor
Sweeping or vacuuming throughout
Cleaning and restocking toilets
Tidying staff rooms and offices
Kitchen and cafeteria cleaning
Clearing external walkways and loading bays
Our regular warehouse cleaning service can be booked for daily cleaning, weekly cleaning or anything in between. We have highly rated cleaners available across London to help with any of your warehouse cleaning needs.
To book warehouse cleaning, simply fill out our online form to let us know about your space. A member of our commercial cleaning team will give you a call to provide a quote and schedule your clean.
We'll send the same cleaner – or cleaning team – each time, ensuring that you receive a consistent and reliable 5-star service. After each clean, we'll bill your preferred payment method and send you an invoice for your records.
During each visit, we'll thoroughly clean throughout your warehouse and staff facilities. We'll ensure that all accessible shelving in your warehouse is wiped, and the staff toilets and break rooms will be cleaned and restocked. If you have a kitchen and/or cafeteria, we'll clean the tables, chairs and food prep areas here. To finish, all flooring throughout the warehouse and staff areas will be vacuumed, and we'll mop all hard flooring too.
Our warehouse cleaning service is bespoke and tailored to the needs of each client. You can use the service for any storage facility – whether you manage a small, single-room warehouse or a large-scale distribution centre, we can help.
In addition to standard cleaning tasks, you can request deep cleaning tasks, such as extractor & duct cleaning, high-level shelf & ceiling cleaning or external window cleaning. Upon request, we are also able to arrange professional floor scrubbing services for large-scale warehouse floor cleaning.
Our London warehouse cleaning service is completely flexible – you can reschedule, skip and even book in extra cleans through by email. 
Our cleaning service is COVID-19 secure; we've introduced enhanced cleaning, handwashing and hygiene processes, and we're taking all reasonable steps to maintain a 2 metre distance during cleans and protective acessories such as gloves, masks and shoe protectors, if requested.