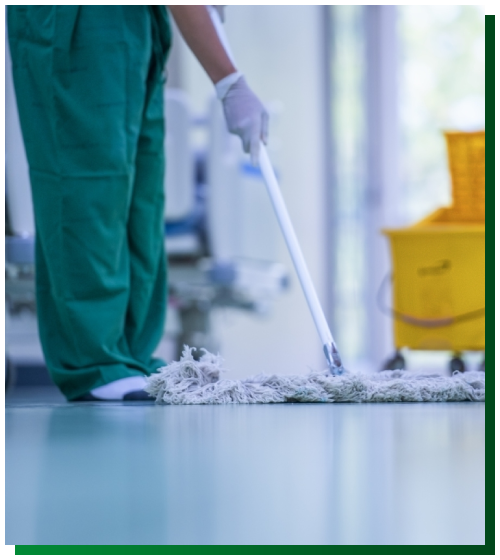 What's included in hospital cleaning?
Hospital Cleaning Includes:
Cleaning surfaces throughout the facility
Disinfecting 'high touch' surfaces, including handles and switches
Tidying and clearing reception and waiting rooms
Cleaning and restocking toilets
Wiping patient beds and changing sheets & pillow covers
Tidying staff rooms and offices
Kitchen and cafeteria cleaning
Mopping all hard flooring
If you're booking for another medical facility, such as a dentist or GP surgery, we'll work with you to create a task list that's suited to your facility.
Whether you're looking to outsource your medical cleaning duties completely, or you just need a few helping hands, we're here to help. We have a team of experienced hospital and healthcare cleaners who are available across London.
Our service is tailored to each clients' needs, and can be booked for any medical facilities, including:
To book medical cleaning, simply fill out our online form to let us know about your space. A member of our commercial cleaning team will give you a call to provide a quote and schedule your clean.
We'll send the same cleaner – or cleaning team – each time, ensuring that you receive a consistent and reliable 5-star service. After each clean, we'll bill your preferred payment method and send you an invoice for your records.
During each visit, we'll thoroughly clean throughout your medical facilities. We'll clean all surfaces and then disinfect 'high touch' areas, such as handles and switches. We'll tidy and clear your reception and waiting rooms, as well as cleaning and restocking bathrooms. On the wards, we'll wipe patient beds and change the sheets and pillow covers. If your facility has a cafeteria or kitchen, we'll clean all seating as well as the food prep areas. We'll finish the clean by emptying and changing the bins, before vacuuming and mopping the floors.
In addition to standard cleaning tasks, you can request deep cleaning tasks, such as carpet & upholstery cleaning or external window cleaning. We also have tradespeople on standby, who can help with any maintenance tasks that come up.
Our service is completely flexible you can reschedule, skip and even book in extra cleans through by email
Our cleaning service is COVID-19 secure; we've introduced enhanced cleaning, handwashing and hygiene processes, and we're taking all reasonable steps to maintain a 2 metre distance during cleans and protective acessories such as gloves, masks and shoe protectors, if requested.